A Message From Our Founder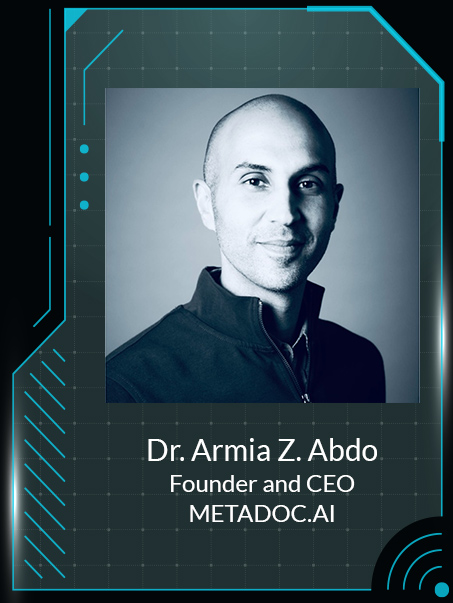 Welcome to METADOC.AI! I am thrilled to have you explore our platform and join us on a transformative journey towards better musculoskeletal health and overall well-being.  At METADOC.AI, we are driven by a passion for revolutionizing musculoskeletal assessments and treatments, ensuring that every individual has access to accurate, efficient, and personalized care. Our journey began with a vision to reimagine traditional manual assessments by harnessing the power of AI and smart devices.  Through years of dedicated research and collaboration with healthcare professionals, we have developed a groundbreaking system that leverages machine learning techniques to provide comprehensive and precise musculoskeletal assessments.
As the Founder and CEO of METADOC.AI, I, Dr. Armia Z. Abdo, a licensed physical therapist and a leading figure in the field, have been deeply involved in shaping our mission.  My expertise in postural torsion syndrome and my understanding of the musculoskeletal system have been instrumental in driving our commitment to providing accurate assessments using innovative image capture technology.  Our dynamic team consists of experts in AI, physical therapy, and healthcare technology, all unified by the common goal of empowering healthcare providers and patients.  We have dedicated ourselves to refining and optimizing our platform, ensuring that our assessments and solutions are not only accurate and reliable but also accessible to a wide range of individuals.
At METADOC.AI, we go beyond assessments and treatments. We believe in addressing the holistic well-being of our patients, understanding that physical health is deeply connected to emotional and mental well-being.  Each patient who walks through our virtual doors is met with compassion and empathy, as we recognize the importance of addressing both physical and emotional traumas to provide comprehensive care.  By improving the health of your musculoskeletal system, our aim is to provide you with a solid foundation for overall wellness. The musculoskeletal system serves as the frame that houses and protects all other bodily systems, and we consider it our responsibility and privilege to restore and strengthen this "suit of armor," so that you can face the challenges of your life with confidence.  I invite you to explore our platform, learn more about our revolutionary technology, and experience the personalized care and support offered by METADOC.AI.
Together, let's embark on a journey towards better musculoskeletal health and an improved quality of life.
Warm regards,
Dr. Armia Z. Abdo
Founder and CEO, METADOC.AI